EDI/API Supplier - Set up SCAC codes (optional)
*This step is only for EDI and API suppliers
If you have unique ship method mapping codes (Standard Carrier Alpha Codes) in your system, you may need to configure them in Logicbroker to ensure we send complaint information to you and you send compliant information back.
In the Logicbroker portal, navigate to Settings > Shipment Options > Ship Method Mappings
Click on Used By Partner to pull up the retailer-accepted ship methods
If the Standard Code column lists a code different than the one in your system, map a Custom Code for our system to recognize the code you will be sending
Click on Edit > add your Custom Code
If you need to add a SCAC code mapping that is not currently accepted by HD Supply, please reach out to support@logicbroker.com so we can work with the retailer to have it configured.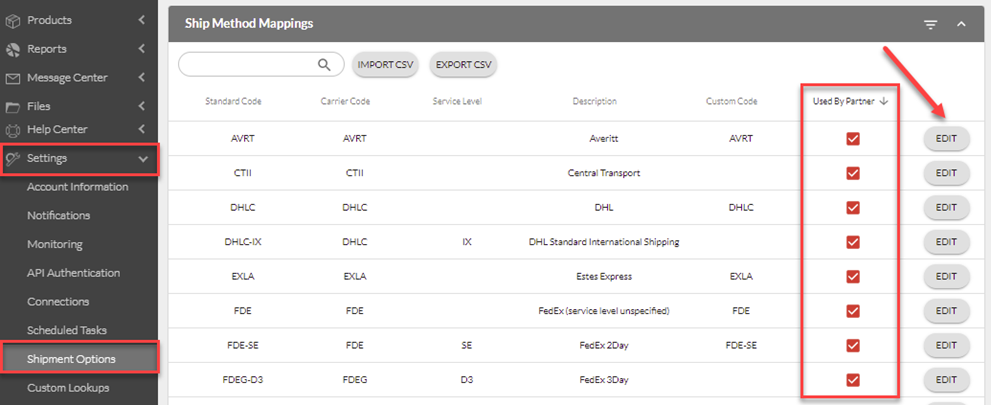 Supplier – Set up Notifications
In the Logicbroker portal, navigate to Settings > Notifications
Toggle on (red) the notifications you wish to receive through email > Save*These need to be set up on an individual basis

Supplier - Set up Payment Terms
To process invoices in Logicbroker, you'll need to set up Payment Terms.
In the Logicbroker portal, navigate to Settings > AccountInformation > Payment Terms
Enter in your Payment Terms in the Default Payments box or in the Partner Specific Payments Terms box if working with more than 1 partner
Save